ABOUT DR. SHARMA
Dr. Poonam Sharma, a licensed psychologist in private practice, earned her Ph.D. in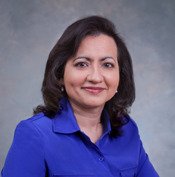 counseling psychology from The University of Texas at Austin in 1994. She provides counseling for adults, couples, and families and specializes in working with people dealing with an infertility crisis.
Dr. Sharma has served on the faculty of The University of Texas Health Science Center at San Antonio for several years in the Departments of Rehabilitation Medicine, Psychiatry, and Community Dentistry. She was President of the San Antonio Psychological Association in 2000-2001. She is currently a professional member of the American Society for Reproductive Medicine, American Fertility Association, Resolve, American Psychological Association, Texas Psychological Association, and San Antonio Psychological Association. She is also credentialed as a Health Service Provider in Psychology through the National Register.
Dr. Sharma's style of counseling is to listen compassionately to understand your situation clearly, help you set realistic goals, and then support you as you take steps to move you toward the results you desire. Although Dr. Sharma is an adoptive parent, she believes that you must determine what will work best for you, and will help you weigh ALL your family-building options.
Read the following San Antonio Express News article about Dr. Sharma's work:
Psychologist helps couple cope with conception woes
To verify the status Dr. Sharma's license, you can contact the Texas State Board of Examiners of Psychologists at 512.305.7700 or search the TSBEP site HERE.